WhatsApp is one of the most popular messaging apps in the world. It has a huge user base and is used by millions of people every day.
WhatsApp keeps improving its app by adding features and has been loved by millions of users around the globe. Today WhatsApp has officially notified that it is testing the major evolution of WhatsApp i,e WhatsApp Communities.
The objective of this WhatsApp communities will be to enable to communicate with all of the different communities in life.
Mark Zuckerberg on WhatsApp Communities
Mark Zuckerberg explained in his post that "We built WhatsApp Communities to make it much easier to organize all your group chats and find information. You'll be able to bring different group together into one community — for example, in addition to individual groups for different classes, you might have one overall community for parents at a school with a central place for announcements and tools for admins"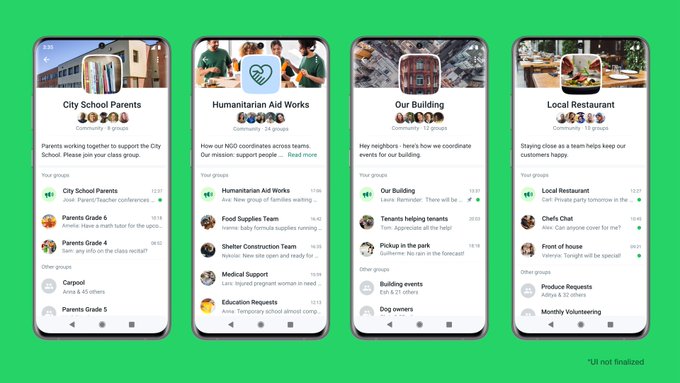 WhatsApp heard from many workplaces, non-profits, and local organizations that have been using WhatsApp for their private communication, and there's a lot we can improve to make WhatsApp work better for groups like these.
WhatsApp communities allow admins to organize groups under one roof, send notifications, and decide which groups are part of their community to help them with conversations. group to act on behalf of their organization. This way, people can receive updates that are sent across the community and can easily organize small discussion groups about what's important to them. Communities will also include powerful new tools for administrators, including alerts sent to everyone and control over which groups they can join.
Also Read: New Instagram Features Expected in 2022
To Support the Vision, whatsApp will be adding bunch of more features apart from the communities which are expected this year.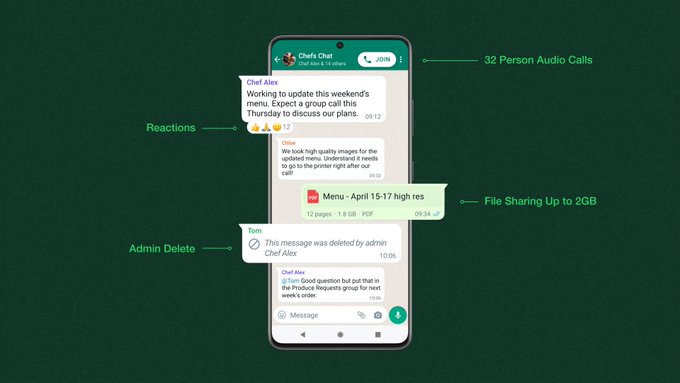 Reactions – Emoji reactions are coming to WhatsApp so people can quickly share their opinion without flooding chats with new messages.
Admin Delete – formerly only the person who sent the message in group was able to delete the message which no one could. Whatsapp will introduce same feature for Group admins, who can now remove the message from the group
File Sharing – File sharing was limit to 100mb. Like telegram, Whatsapp will now be increasing file sharing upto 2GB for users to share large files easily on whatsApp. Isn't it amazing?
Larger Voice Calls – WhatsApp will introduce one-tap voice calling for up to 32 people with all new design for those times when talking live is better than chatting.
Conclusion
These features will be a great addition in making WhatsApp a better daily messaging platform. Telegram has already added most of the features and has more engaging communities. WhatsApp now seem to realised the same and has finally come up with such features. Lets wait for these whatsapp features to roll out and see how it goes.
Do leave your comments on whats your Point of view on these feature. Happy Techsuring!